Observations made on July 19, 2002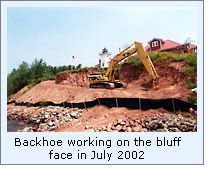 When visiting Raspberry Island on July 19, 2002, we were pleased to see that work at the station was well underway. Earlier that summer, a team of divers spent a week checking the lake bottom at the foot of the bluff to a distance of approximately 30 feet out to ascertain if there were any historical artifacts that needed to be either saved or protected before the work began. After removing the few items of historical significance that were found, work on the bluff was approved.
The week before we arrived, a tug brought the work barge and crane shown in the photograph to the island, and the crane lifted the back hoe onto the shore.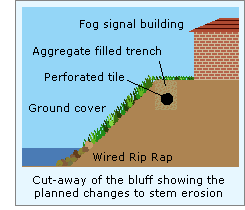 At the time of our visit, the back hoe was in the process of reconfiguring the bluff slope to a less acute angle. Once this phase is complete, a trench will be excavated along the top of the bluff in front of the station, and perforated drain tile will be installed. The drain tile will then drain to the lake level a distance to the east of the station. By thus reducing runoff at the upper edge of the bluff, top-down erosion is expected to be virtually eliminated.
The tug was in the process of transporting barge loads of rocks, and placing them in the water offshore of the foot of the bluff. Once the re-grading is complete, these rocks will be used to re-face the lower level of the bluff to reduce the effect wave-induced erosion at the bottom of the bluff.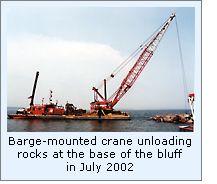 Once both of these parts of the project have reached completion, the remainder of the reconfigured bluff face will be graded and planted with indigenous plant species of a type to both provide protection and bind the soil surface.
As we left the island, NPS Historian Bob Mackreth indicated that he expected the work on Raspberry Island would be finished by the end of the 2002 summer season.