The DCB-224, DCB-24 and DCB-36 Aero beacons were originally designed for use in airport applications, but became widely used in lighthouses throughout the US in the 1950's.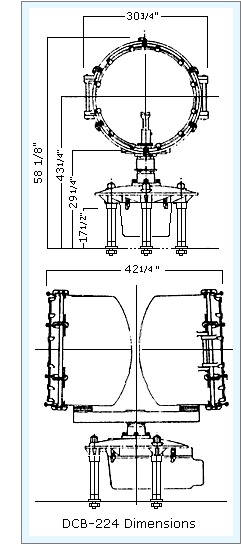 Manufactured by the Carlisle & Finch Company, the lights could be installed in single or double configurations, and dependent on the wattage of the bulb installed emitted a pencil beam of intense light, visible for a distance of eighteen to twenty-six nautical miles.

The DCB-224 has a cast aluminum drum that houses a precision 25" parabolic reflector. The drum is mounted on a vertical shaft that is bolted to the three-legged aluminum base. The base houses the motor, drive gears and electrical system for the beacon. The DCB-224 can also be outfitted with a CG-2P automatic bulb changer, which automatically switches to a reserve bulb when the primary bulb becomes burned-out. Designed for severe service, the DCB-224 can operate unprotected in hundred-knot winds.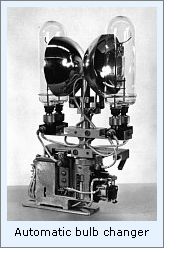 When outfitted with 400 watt metal halide bulbs, a service life of 20,000 hours per bulb is expected, thereby allowing a single bulb to burn continuously for over two years.

Outputting intense heat, the Coast Guard currently warns guardsmen maintaining these lights to "Secure power, tag-out, and then wait 15 minutes before servicing. Wear goggles, gloves and face shield. Lamp and mirror can explode if they come in contact with cold air from opening the door after light has been energized."

While no longer manufactured, the DCB-224 is still widely used in the lighthouses of the Western Great Lakes.
Reference Sources



Conversation with Bob Hanford, USCG Auxiliary & Keeper of lighthouse, 05/05/2000.
Photograph taken at Fort Gratiot 05/05/2000
Hali-Brite airport lighting & refurbishment Company website.
Carlisle & Finch Company, website