All 300mm lanterns used in Great Lakes lighthouses are manufactured by Tideland Signal Incorporated. The 300mm designation derives from the diameter of the lens at the focal plane.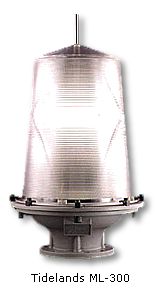 The Tidelands ML-300 lantern consists of an acrylic 300mm Fresnel lens and a base assembly with internal hardware for the installation of a flasher or lamp changer. The lens, available in clear, red, green, or yellow, is a single-piece acrylic injection molding that is designed to produce a 360° beam of light, and is thus referred-to as an "omni directional" lantern. In those applications in which a multicolored signature is required, one or more colored or clear acrylic inserts can be added.
The lens mounts on the lens ring, and is secured to the base with eight polyester hold-down tabs. Both the base and lens are fitted with O-ring gaskets, providing a weather-tight seal, while still allowing for movement of the lens during periods of thermal expansion.
The base assembly is compression-molded from an ultraviolet stabilized fiber-filled polyester resin for corrosion resistance and long-term strength. To help combat rusting in the inherently damp environments in which such lamps are installed, all metal components within the assembly are manufactured from marine grade stainless steel, brass, and anodized aluminum.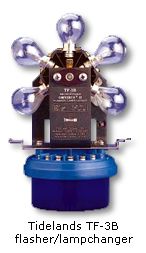 In order to reduce maintenance frequency, and to virtually eliminate the chance of the light being extinguished when a bulb reaches the end of its useful life, all of the 300mm lenses installed in Great Lakes Lighthouses are outfitted with automatic lampchangers. While In the early days, the term "lampchanger" befitted the purpose of these mechanisms, in the modern digital age, lampchangers have evolved to do a great deal more than simply rotating a new lamp into place when the existing lamp no longer shows any resistance.
The Tidelands TF-3B MicroPower OMNIBUS II lampchangers also serve as a sophisticated flash controller, and is available in either AC or DC versions. The DC version can operate within a range of 9 to 36 volts, and is most frequently used in offshore applications, where it is powered by a photovoltaic array with battery storage Using a moisture-protected stepper motor, all electrical contacts within the assembly are gold plated for long-term corrosion resistance. The unit offers 256 preprogrammed signal codes, automatic synchronization with other flash units. The unit outputs ASCII signals as positive and negative pulses, and can thus be used for remote reprogramming and monitoring via phone lines or a variety of broadcast signal methodologies.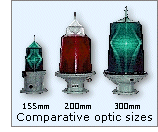 In order to ensure optimum operation, it is critical that the lantern base is carefully leveled on the lantern pedestal. The unit must then be focused, which is achieved by adjusting the lamp assembly within the lantern so that is at the exact center of both the vertical and horizontal axes within the lens. Adjustable components are located in the lens ring, base and installed lamp assemblies to facilitate these adjustments.
When installed and adjusted correctly, the modern 300mm lens has a maximum visibility range of ten nautical miles (approximately 11.5 statute miles.)
Reference Sources



Emails from USCG MK1 Sabo, 09/26/00, 10/14/00 & 10/15/00
Company line catalog, Tideland Signal Inc.
12 Volt DC lantern repair PowerPoint training presentation, USCG