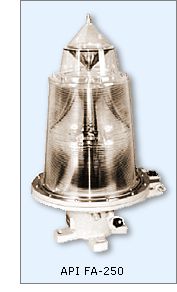 Automatic Power Inc. manufactures all 250mm lanterns used in Great Lakes lighthouses. The 250mm designation derives from the diameter of the lens at the focal plane.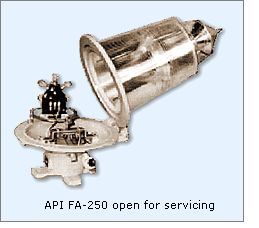 The single-piece FA-250's acrylic Fresnel lens is available in clear, red, green and yellow. It is a versatile unit that can be used as a 360° omni-directional obstruction light, or can be adapted for multi-colored flash applications through the addition of colored sectors. With a tight o-ring seal around the base of the lens, dust and moisture are completely excluded from the lamp mechanism.
The corrosion-proof anodized aluminum base is sealed with two airtight O-rings. The lantern is hinged for easy maintenance and adjustment access. Two ¾" NPT (National Pipe Thread) fittings in the base provide electrical access and connection to another lantern if required The lantern base is large enough to accommodate a wide variety of flashers, lamp changers or controllers.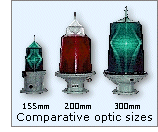 In order to reduce maintenance frequency, and to virtually eliminate the chance of the light being extinguished when a bulb reaches the end of its useful life, all of the 250mm lenses installed in Great Lakes Lighthouses are outfitted with automatic lamp changers. While In the early days, the term "lamp changer" befitted the purpose of these mechanisms, in the modern digital age, lamp changers have evolved to do a great deal more than simply rotating a new lamp into place when the existing lamp no longer shows any resistance.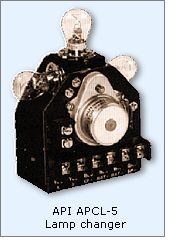 API's APCL-5 Flash changer features a number of capabilities. Available in for use in either AC or DC voltage applications, with the DC version more likely used in offshore applications in which power is supplied by a photovoltaic array and batteries. It is a fully integrated flasher and lamp changer unit providing for selection of a combination of flash rhythms, voltage regulation points, and communications addresses. It incorporates pulse-width modulated voltage regulation, photocell control, solar charge regulation and a surge-blocking diode.
A standard serial communications interface permits a wide range of remote monitoring and control functions. The unit also provides a synchronization terminal, lamp-out status or secondary optic control, electrical and optical monitoring of each lamp, and built-in diagnostics via switch or radio activation.
When installed and adjusted properly, the modern 250mm lens has a maximum visibility range of nine nautical miles (approximately 10.4 statute miles.)
Reference Sources



09/26/00, 10/14/00 & 10/15/00 emails from USCG MK1 Sabo.
Product line catalog. Automatic Power Inc.
PowerPoint training presentation. 12 Volt DC Lantern repair. USCG